How to Hack Someone's Facebook Stealthily
Hacking a Facebook account is not a cup of tea for everyone, but it's not impossible either. There is always a way out in every situation. Now you can monitor anyone's Facebook account without them knowing it. 
Yet, with the advent of modern ways of hacking, many scammers have emerged. These hacking tricks are just a ploy and come up with viruses to infect your data. Well, no one wants to risk data security.
All you need is a smart Facebook hacking solution that could be used without any technical expertise. There should be no extra efforts for surveys. Wasting time on dialog boxes and human verifications are not enviable at all.  
Well, the abstract is, you will get to know about 100% working Facebook hacking techniques. Without any jailbreak or root, you can hack Facebook accounts. If it seems intriguing to you, keep reading to find out more about startling Facebook hacking ways.
Hack a Facebook Account Online
Yes, you read it right. However, hacking Facebook is not as easy as it seems to be. It is not viable to break through the security measures of Facebook as it employs the best encryption algorithms. 
To hack Facebook, the best approach is to hack the telephone where the Facebook application is installed. Following this approach, there won't be any further efforts at all since there are many applications intended to do so. You can explore more about such applications by reading this article.
Minspy, a Facebook Hacking solution
Minspy is a world-class Facebook hacking application. You can get your smart Minspy solution from the Minspy page. It is being used in over 190 countries by incalculable users. You can break into anyone's mobile phone using Minspy to access their Facebook account easily.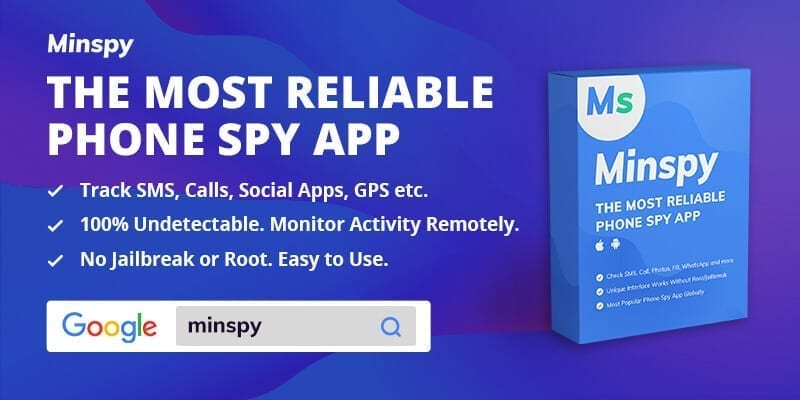 Using Minspy, you can access any device as it is designed for all operating systems. You don't need to be close to the mobile phone for hacking it. Minspy offers hacking irrespective of your locale and collects all sorts of text and multimedia records from the user's Facebook account.
You can monitor Android devices as well as iPhones. Physical access is not a requirement for hacking anymore. You can read Facebook messages and creep into their account using Minspy. You don't need to learn any special skills to do so. 
Keep reading this guide to hack Facebook effortlessly with Minspy. 
Hack a Facebook account stealthily
Minspy is leading the market as its Facebook hack operates efficiently without any pause. No one can track you while spying them. Your identity remains hidden when you hack anyone's Facebook account using Minspy.
iOS-based Facebook hack solution 
To hack somebody's iPhone to see their Facebook messages, you don't need to get the device in your hands now and then. Minspy solution for iPhones employs the iCloud services to hack Facebook. All you need is to get the target person's iCloud credentials. 
All the information on the iPhone is transferred to an iCloud server from iCloud credentials. Minspy uses this data to access anyone's Facebook. Once you install Minspy on the target phone, the later procedure is remote.
Android-based Facebook hack solution
To hack a Facebook account running on an Android device, you must install the application on the target device first. If any application claims remote installation for Android systems, they must be playing tricks to steal your personal data. Be aware of such scammers
Minspy is designed to take care of these problems. It takes a few minutes to install Minspy. After installation, the app icon disappears from the application list of the target device. No one but you can see Minspy in the installed application list with a secret code.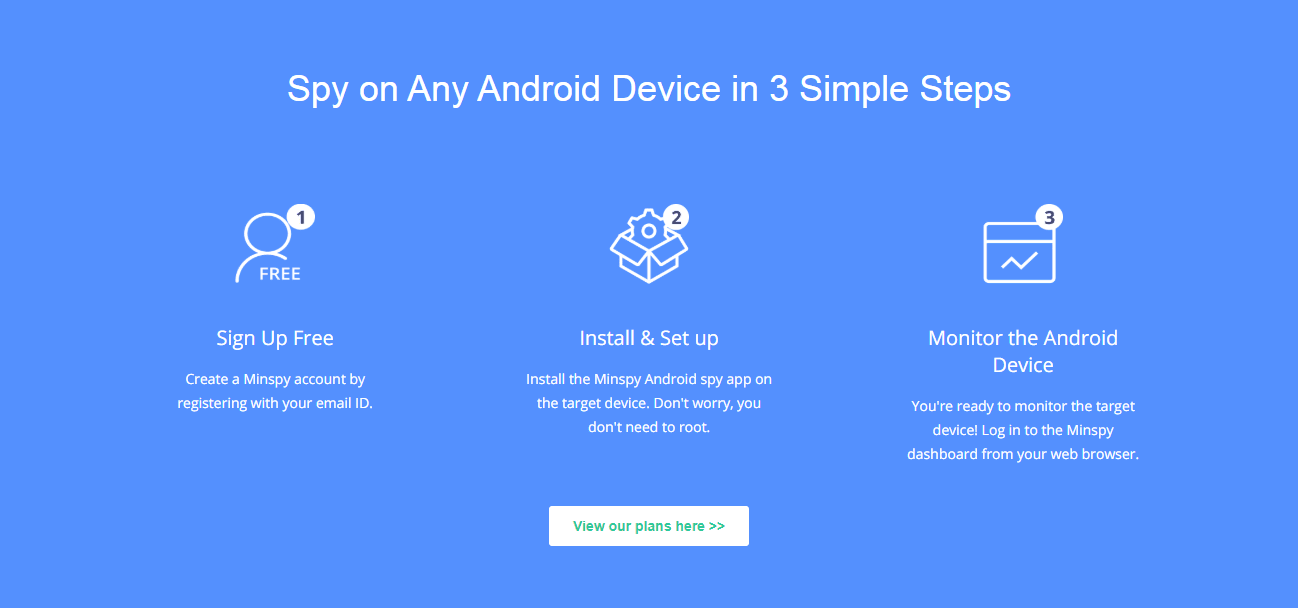 Minspy runs secretly in the background without any disruption as its size is less than 3MB. It does not drain the battery and executes automatically without any notifications. You can also uninstall the application remotely from the Minspy dashboard using any web browser.
How to Hack Facebook using Minspy
To hack Facebook accounts using Minspy, follow the below guideline. It takes less than five minutes to get started with Minspy
Step 1:
Create your account from the official website of Minspy. If you already have one, log in using your previous credentials to start spying.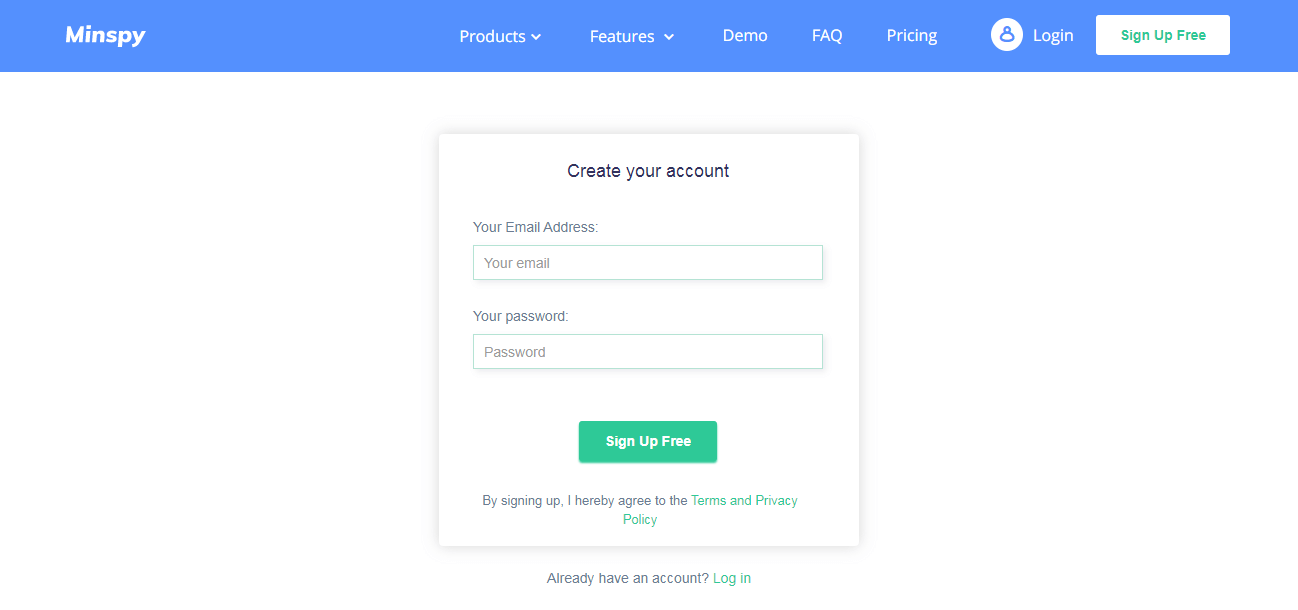 Step 2:
Select the relevant subscription plan as Android mobiles and iPhones employ different mechanisms. To hack the Facebook account running on iPhone, verify its iCloud credentials to view data from the Minspy dashboard. In the case of an Android device, install Minspy on the target device to remotely hack a Facebook account.
Step 3:
Click on the start button to begin the spying process. You can open the Minspy dashboard using any web browser. All the activities of the target device are recorded automatically. Minspy incorporates tabs for all social media platforms. Select Facebook to view their private messages secretly.  
You can get 35 additional services other than just spying Facebook. Any social media account being used by the target system could be tracked easily. All you need is an internet-capable device to use Minspy.
Why is Minspy the best choice to hack Facebook?
There are various reasons for selecting Minspy to hack any Facebook Account. A couple of them are enlisted here:
Jailbreak/Root free solution
You don't have to root or escape the jailbreak of any device. Minspy is a root free Facebook hacking solution. Minspy utilizes the cutting edge technology to hack Facebook accounts without resetting the target device.
The keylogger records every keystroke on the target device. It incorporates everything that the user has typed. Facebook account credentials, messages, and searches made on target devices could easily be viewed remotely using Minspy.
Minspy is a remote hacking application. You don't need to install any application on a personal device. Minspy could be opened using any internet browser. You can open the Minspy dashboard remotely to save your system from any potential dangers. 
Minspy takes care of your personal data. Next-generation security measures are deployed to ensure that your private information is not recorded at backend servers of Minspy. Even the development team of Minspy isn't able to view your data.
Endnotes
There are several hacking applications in the market which claim to spy on Facebook. Yet, no one can compete with Minspy as it comes up with added security features and economical packages.
Minspy is a 100% working Facebook hacking application without any reported bugs. If you were looking for a reliable hacking solution, then Minspy would be your preference to hack Facebook. Minspy is a top-rated spying application.